Charles Becker as an artist can clearly be seen and studied in the content of this online gallery. Another great opportunity is to get to know Charles Becker as a personality. This active, single father of four who resides in Northern California is truly a person anyone would enjoy to get to know. His lifestyle mirrors his work as he shows enthusiasm and passion in everything he says and does. Often he includes interesting details in his work, you just have to look closely to find all of the hidden treasures. One cannot appreciate the true conveyance of feeling in his work by just a mere glance. The more that is studied, the more that is revealed. This is the deeper meaning of Charles Becker. The following pages give a glimpse of how someone focuses their life on expressions of the senses in art. From the early days to the current, please enjoy getting to know this true artist better.
His still life's transcend realism. He depicts everyday objects with an emotion and sensuality that makes them seem animated on the canvas, and his multi-dimensional compositions reveal new secrets at each viewing. With rich, luster-than-life colors, provocative interplays of light and perspective, and whimsical spirit of the trompe l'oeil, Charles Becker's paintings defy simple categorization. However, what is clear is that his expressions of "Magical realism" have captivated the public and have placed him in the upper echelon of the contemporary art scene.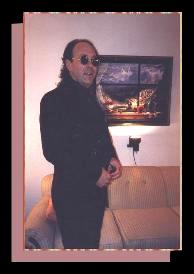 Although Becker drew as a teenager, it wasn't until he happened to see a painting by Italian still-life master, Roberto Lupetti, that he was inspired to consider art as a possible career. As a result of the experience, Becker sought out the master (who happened to live nearby) and, under Lupetti's tutelage, created a solid foundation upon which to develop his own unique style. After going out on his own, Becker struggled for a few years --even taking other jobs to support a family--but he got a break when one of his paintings appeared on the cover of Southwest Art magazine. Since that time, Becker has achieved phenomenal success as both the demand for his work -- and it's value -- has soared.
In the past ten years, Becker has received both critical and popular acclaim. His work has been featured in Time, Sunstorm, Art & Antiques, Connoisseur, USA Today, Art News, U.S. Art, Advertising Age and many other publications. His paintings also have been featured in dozens of exhibitions throughout the U.S., as well as France, Japan, Sweden, and Hong Kong. In 1990, he was commissioned to paint four pieces for Absolut Vodka, as part of a highly-visible ad campaign which features a series of original works by important contemporary artists. Today, his works hang in many prestigious private and corporate collections.
One article describes him well and it's contents deserve our attention -
"The term "Magic Realism" has been used to refer to the painting of Charles Becker. And indeed, an act of conjuring is at play in his work. At first, it would appear that the canvases are fine oils in the trompe l'oeil style of the Dutch Masters. And, at a glance, many of the paintings seem seriously composed in a traditional sense. But upon closer inspection we find this wizard of illusions has woven into his magic carpet an unending parade of surprises and breaks with traditional time-honored rules of painting, so carefully camouflaged that one must literally change his perspective in order to appreciate the wonderful subtleties presented.
The fruit in his still life oils take on almost human qualities. A group of strawberries appear to be playing and dancing together. Two pears gossip about a lone pear at the end of the table. A bunch of grapes burn tempestuously, so plump that they are almost bursting with a sensual anticipation.
Other paintings which are formally structured in large part are suddenly found to be daringly transformed by an object perilously poised at a table's edge: a grape about to fall, or falling; a fragile teacup teetering; a futuristic or surreal landscape serving as a backdrop for a 17th century subject; a spray of flowers attracting so much attention because of their busyness but somehow living in complete harmony with their surroundings."
"The term 'still life' is an anachronism. Life is live, not still. Life is truth and humor, tragedy and sorrow.....I began to understand how light illuminated all we behold. The simplest of earth's treasures are altered dramatically as the quality and variety of the light sources change. In many ways, light is life, especially to a painter".

- Charles Becker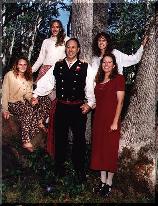 Light and how it effects things is a prominent element in Becker's work. Motivated by the desire to make a personal connection with the viewer through his paintings, he uses light and color to infuse each object with as much feeling and nuance as he can (which is where Becker's work goes beyond photo realism, which he finds static and uninteresting). In that sense, rather than paint a simple apple, he paints a portrait of that apple with colors that make it seem more than real; rather than paint a simple plum, he gives it a little more curve and cleavage so it has a sensual energy all its own. He starts with careful sketches--most of which end up under the painting itself. While he usually has a finished concept in mind, he allows plenty of room for the painting to evolve. As he works, he adds balancing points--touches that make it more comfortable, warm, or tense, or elements of interest that push and pull at the edge of realism to capture someone's eye from across the room and draw them closer where the painting, rather than falling apart, reveals new, sometimes surprising, dimensions.
Today, working out of his studio in Northern California, Becker's preferred medium is oil, although he also works in dry pastels, which he enjoys for their vibrant colors and immediacy. While he is most well-known for his still life's, he also loves to do figurative work and portraiture. (Two of his subjects include Congressman Pete McClosky and baseball Hall of Fame, Willie McCovey.) And, while he sees himself as an easel artist, he also sees the possibility of developing some of his work into a children's book.
Aside from Lupetti, Becker cites Salvidor Dali as a major influence. And, the surrealist touches --the way Becker starts with the real and pushes it to the edge, incorporating elements that keep the viewer thinking and guessing--are clearly evident. Art is Becker's means to connect to people. His works speak from the heart and he puts something of himself in each piece. For Becker, that's what makes a successful painting. And for collectors, who are buying his paintings as fast as he can produce them, that's where the magic begins.
If you would like to learn more about the legacy that Charles has been given to carry on, visit the History page here.
Charles Becker and Company sincerely thank you for your visit and would like to invite you to come again soon.